Programme of conference
14th March 2017
08:00 – 08:30
Meeting of Scientific Committee and representatives of PSKD.
Election of "Personality of railway and urban rail transport in Slovakia for the year 2017"
08:30 – 09:30
Registration with morning coffee
09:30 – 10:30
Opening addresses
10:30 – 12:30
1st BLOCK of presentations incl. discussion (Principles and long-term objectives of EU transport policy)

Current status of preparation and implementation of rail transport projects financed from EU funds
Michal Dekánek, Ministry of Transport and Construction of the Slovak Republic
Strategic management and planning - National Infrastructure Plan
Kvetoslav Kmec, Deputy Prime Minister's Office for Investments and Informatization of the Slovak Republic
Boosting rail through enhancing competitiveness: the EU perspective
Elisabeth Hochhold, European Commission
Policy measures to increase the competitiveness of railways
Libor Lochman, CER
Preparation and realization of railway modernization projects in Czech Republic in years 2016 and 2017, plans for next years
Mojmír Nejezchleb, Správa železniční dopravní cesty
System of transport infrastructure financing in the Czech Republic from STIF budget
Zbyněk Hořelica, The State Fund for Transport Infrastructure


13:30 – 15:30
​2nd BLOCK of presentations incl. discussion (Railway for people)

The way from principles and objectives of EU transport policy to actions for railway clients
György Bessenyei, European Investment Bank, JASPERS
What do passengers expect?
Trevor Garrod, European Passengers´ Federation
Possibilities of deployment of primary system of public urban transport in downtown of Bratislava
Tibor Schlosser, Enikö Pomichal, Matúš Borš, Gabriel Bálint, Slovak University of Technology in Bratislava
"Bungle tram line" or continuity from an idea to final approval
Ján Kušnír, REMING CONSULT a.s.
Mobility solutions and technologies in the modern railway processes
Nino Cingolani, Ferrovie dello Stato Italiane Spa
Regional Tram Projects in Upper Austria – taylor-made solutions for the passengers
Bernhard Kohl, ILF Consulting Engineers


15:30 – 16:00
Coffee break
16:00 – 18:00
3rd BLOCK of presentations incl. discussion (Competitiveness and challenges for rail transport)

Concept of transition to a unified power system of 25 kV in relation to priorities of 2014-2020 programming period and meeting requirements of TSI ENE
Petr Lapáček, Jaroslav Peroutka, SUDOP PRAHA a.s.
Shift2Rail Joint Undertaking - objectives, opportunities and activities
Tatiana Kováčiková, University of Žilina
Mobility 4.0
Victor Baburin, Skyway Technologies Co.
Renovation of the Old Kaiser-Wilhelm-Tunnel in Germany
Jiří Patzák, Subterra a.s.
Railway rolling stock
Jaromír Jelínek, ŠKODA TRANSPORTATION a.s.
Flexibility track superstructure and lifecycle management LCC as a sustainable strategy for maintenance of railways
Tibor Roth, Iveta Dančejová, Tomáš Roth, HYDROBETON, s.r.o.


19:00 – 19:30
Award Ceremony of the "Personality of railway and urban rail transport in Slovakia for the year 2017"
2nd year of award of the best student work
19:30 – 24:00
Social evening with wine tasting
15th March 2017
08:00 – 09:00
​​Registration with morning coffee
09:00 – 09:30
Price development in Czech construction industry
Jiří Mandík, FRAM Consult a.s.

Long-term comparison of Czech and Slovak railway infrastructure managers and state operators of passenger rail transport in light of their annual reports
Jiří Kubáček


09:30 – 12:00
​Discussion forum
12:00
​Closing speeches, lunch
Program changes reserved.
Posters

Technical options to reduce noise and vibration from operation of railway lines
Peter Červenka, Ján Šimo, Marianna Kolibíková, Michal Bugala, Lenka Pechancová Klub ZPS vo vobroakustike
Modal shift for chemistry - ChemMultimodal project
Jaroslav Čermák, Juraj Jagelčák, Zväz chemického a farmaceutického priemyslu SR
Maintenance center for railway rolling stock
Eduard Prochác, REMING CONSULT a.s.
Pružné upevnenie koľajníc ICOSIT® KC systémy
Sika Slovensko spol. s r.o.
Interoperability of geodetic works and its importance in the modernization of railway infrastructure
GEO-KOD, s.r.o.
Elasticity of railway superstructure and Lifecycle management as a sustainable track maintenance strategy
HYDROBETON, s.r.o.


Speakers
Libor Lochman
Executive Director
CER – Community of European Railway and Infrastructure Companies, Belgium

Dr Libor Lochman has been Executive Director of the Community of European Railway and Infrastructure Companies (CER) since 1 January 2012. Born in 1963 in Czechoslovakia, he graduated at the Transport University in Žilina and has a doctorate in electronics from the West-Bohemian University Plzen. Libor Lochman has a strong background in Control-Command and signalling systems. Prior to his role as CER Deputy Executive Director and leader of technical affairs (2007-2011), he acted as director of the Railway Test Centre, a facility for testing European rolling stock, infrastructure and signalling components, in Prague (2000-2005).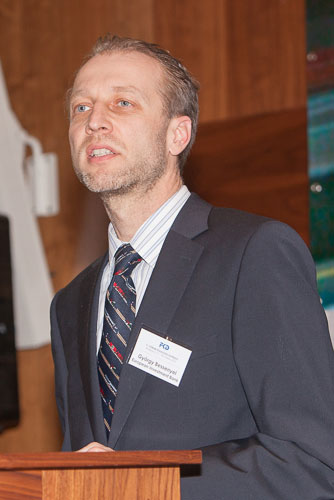 György Bessenyei

György graduated as mechanical engineer (MSc) at the Budapest University of Technology and Economics in 1994. He started his professional career at Hungarian State Railway where he worked in different positions: fleet manager in Budapest-Keleti depot, development engineer in the Institute for Development and Research, deputy head of unit for strategy at the MAV Headquarters, Department for Railway Reform, and head of unit for Technology Development at the Department of Strategy. From 2005 György moved to the European Railway Agency as interoperability officer, then from 2007 to the European Investment Bank as transport sector specialist. In his current position he provides expert advice for CEE countries in EU financed development projects. György obtained in 2009 a PhD degree in transportation sciences on the Budapest University of Technology and Economics.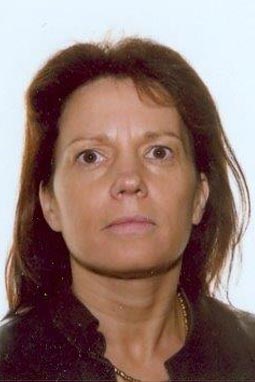 Sian Prout

Head of Unit : 2. Single European Rail Area : Dir B — European Mobility Network : DG MOVE — Directorate-General for Mobility and Transport
European Commission

Sian Prout: short summary of career: 29 years in transport covering

1987-1991 / UK govt, Department of Transport, London: Freight transport Directorate

1991-1997 / European Commission, Directorate General for Transport (VII): Safety, technology & environmental aspects of land transport

1997-2001 / European Commission, Directorate General for Transport & Energy, Unit for International Relations and Enlargement; transport and energy policy and international transport infrastructure network development; co-ordination of input into accession negotiations and pre-accession strategy on transport & energy

2001-2002 / Member of Cabinet of Vice-President Kinnock: relations with European Parliament, policy developments on transport, enlargement, energy, financial reform, anti-fraud, employment & social affairs;

2002-2004 / Member of Cabinet of Commissioner Verheugen: pre-accession aid, relations with the European Parliament, Court of Auditors, European Investment Bank; policy developments on transport, financial management, anti-fraud (OLAF), audit, programme evaluation,

2004-2007 / Member of Cabinet of Commissioner Potočnik: research policy, following in particular transport research, including aeronautics, research infrastructures, establishment of the research agencies, project & financial management, developments on transport, budget, audit, OLAF, relations with Court of Auditors.

2007-2011 / Head of Unit Human Resources, Shared Resources Directorate of DG Mobility & Transport & DG Energy

2011-to date / Head of Unit, DG Mobility & Transport, Single European rail area
Nino Cingolani

Nino Cingolani is an engineer with a master in Business Administration; he is a long-time rail and public transit senior transportation executive who has proven capabilities in developing successful bid strategies, fostering teaming opportunities, nurturing client relationships, managing marketing and proposal teams and with an extensive experience in leading innovation, growth, and diversification into new market segments and geographies. He served as Co-Chairman the restructuring and development program for the Egyptian national railways.
During his long work life has consolidated a broad experience in business administration like Company business plan; asset optimization (assessment and negotiation); valuation of commercial partnership and acquisitions for business development (logistics, freights, innovative integrated rail-road transport system) and project management investments control.
He had been working for major Italian companies in the energy and transport sectors where he developed for many years budgeting and control processes on a portfolio of projects/initiatives of about 10 billion euro/year; assessment, valuation and monitoring of large infrastructural and transport system projects; project financing for high speed lines and urban transport systems; executive board member in various subsidiaries of Holding Companies. He accept new experiences with passion, positive thinking and enthusiasm both for professional, human and cross-cultural reasons. In his private life he has two sons and among his hobbies he loves reading books and collects pencils.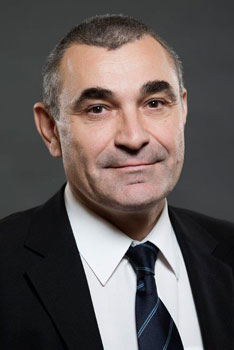 Mojmír Nejezchleb
Deputy Railways modernization

He was born in March 22, 1963. In 1986 he graduated from the Brno University of Technology, Faculty of Civil Engineering, constructions and road constructions. He then worked in various operational positions within the civil infrastructure of CSD and CD. From 2000 to 2008 he held the position of Director of track economy ČD HQ. After the establishment of the Railway Infrastructure Administration, state organization, he worked as Director of the Department of concepts and strategies. Since July 2013 he holds the post of Deputy Director General of Railway Infrastructure Administration for track modernization.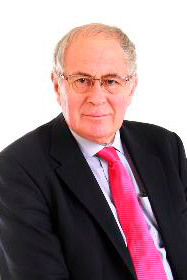 Trevor Garrod
Chairman - European Passengers Federation

Mr. Trevor GARROD is graduated from Oxford University 1969 in Modern Languages (French and German), and obtained PGCE at Leeds University 1970. Taught in secondary and middle schools 1970-87 and subsequently also at evening classes. Civil servant at DSS (subsequently Department of Work & Pensions) 1987-2011. Retired September 2011. Active in Railway Development Society (now Railfuture) and its predecessor body from early 1970s. Served as General Secretary 1986-2001. Chairman of European Passengers' Federation from its formation in 2002 to date. Also Chairman of East Suffolk Travellers' Association (for train and bus users) since 1997. Has long experience of representing passengers and working for better rail services. Has written or edited many books and reports on railway matters, organised special trains and visits, conferences and events to promote rail travel and deal with issues facing train and to some extent bus users.